Gardening in the Park
First Saturday morning of each month
Regular gardening sessions from 10am–12pm.
Volunteers always welcome.
City of Coventry Male Voice Choir
Saturday 28 September 2019
An evening of song from the City of Coventry Male Voice Choir, with special guests Senza Nome, Polish Community Choir. Ticket price £10. Refreshments are included in the ticket price. Proceeds go to the Friends of Spencer Park.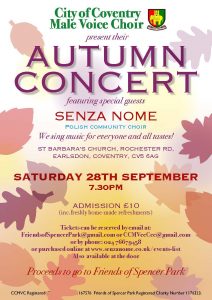 Pumpkin Parade
Saturday 26 October 2019
The return of the annual Halloween celebration.
All the latest news regarding events can be found on Facebook.