Gardening in the Park
First Saturday morning of each month
Regular gardening sessions from 10am–12pm.
Volunteers always welcome.
---
Friends of Spencer Park – Annual General Meeting
Monday 10 June 2019
Our AGM will be starting at 7pm in the Spencer Park Pavilion.
Please come along and find out what our plans are for the park and how you can help us achieve them. All welcome. 
Jo Cox: Great Get Together
Sunday 23 June 2019
Picnic in the park with friends and family.
Bedworth Brass in the park
Sunday 30 June 2019
This well-respected local band will be playing some familiar (and not so familiar) tunes in the park. There will be cakes , ice cream and refreshments. Bring along a picnic and enjoy the music.
Fun Dog Show
Sunday 7 July 2019
The return of our Fun Dog Show. More details to follow shortly.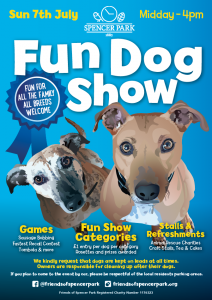 GNP Sports Day
Saturday 27 July 2019
More details to follow.
Bands in the Park
Sunday 18 August 2019
More details to follow.
City of Coventry Male Voice Choir
Saturday 28 September 2019
More details to follow.
Pumpkin Parade
Saturday 26 October 2019
the return of the annual Halloween celebration.
All the latest news regarding events can be found on Facebook.