Christmas in the Park
Saturday 15th December 2018
Cancelled due to bad weather.
Pumpkin Parade
Saturday 27th October 2018
It was really cold in the park, but fortunately, the rain stopped and we had a very good turnout. The Hallowe'en cakes and pumpkin soup were very popular and the children enjoyed the bat hunt around the park and the craft activities inside the pavilion before the prizes were awarded for the best five pumpkins and Halloween costumes. It was very hard to choose as so much effort had gone into the entries. Everyone got a sticker for participating and lots of sweets were consumed! We had a lot of positive feedback from those who attended.  Someone commented on the spooky atmosphere. Others felt that the event had a real community feel to it.  Many thanks to everyone who helped on the day and with the preparation.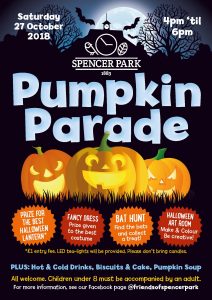 Macmillan Coffee Morning in Spencer Park
Friday 28th September 2018
The World's Biggest Coffee Morning  is Macmillan's biggest fundraising event for people facing cancer. This year we joined forces with this very worthwhile charity to raise some money for a very good cause.
Fun Dog Show
Sunday 12th August 2018
Midday until 4pm
After a summer of blistering heat, yet another of our summer events was threatened with cancellation due to rain. However, the forecast rain never really amounted to much and the event was able to proceed, albeit without the sunshine we had all become accustomed to in 2018. See the News and Views section for a full round-up of dog show winners.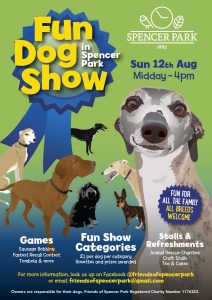 Children's Tennis Coaching
Throughout the summer
10am–11am for under eights and 11am–12pm for 8–13 year olds.
Cost £3 per session per child, payable on the day.
Held throughout the summer, these regular sessions helped children aged 13 and under to improve their tennis skills with a professional tennis coach.
Bands in the Park (CANCELLED)
Sunday 29th July 2018
2pm–3.30pm
Unfortunately, the Bandicoots Blues Connection were unable to perform due to heavy rain.
Great British Tennis weekend
Saturday 21st July 2018
10am–4pm
Free access to the tennis courts.
Jo Cox Great Get Together
Sunday 24th June 2018
12pm–5pm
In spite of numbers being down due to the lure of England playing in the World Cup (beating Panama 6-1), we had another great community picnic day in the park.
Friends of Spencer Park AGM
Monday 18th June
Spencer Park Pavilion – 7.30pm onwards
Our first AGM held in the pavilion. The minutes of which can be found here.
Earlsdon Festival
Monday 7th May 2018
A busy day at the Earlsdon Festival. Again, we shared a stall with the Albany Bowls Club. Thanks to everyone who helped with the leaflets and questionnaires. Lots of information passed out and a great deal of interest in our activities.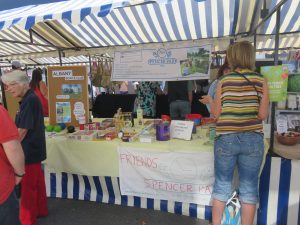 Tennis and Bowls Open Day
Saturday 5th May 2018
A day of free tennis and bowls was organised to coincide with the weekend of the Earlsdon Festival.
Easter Egg Hunt
Friday 30th March 2018
Many braved the March weather to take part in our annual Easter Egg Hunt. Another great day had by all.

Spring concert by City of Coventry Male Voice Choir
Saturday 24th March 2018
A concert of song at the Earlsdon Methodist Church. Performed by the CCMVC and guest choir, the Greasley Male Voice Choir. This event was held in aid of Friends of Spencer Park.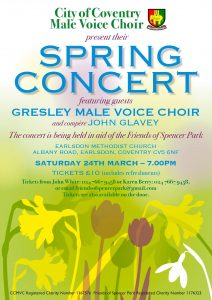 SaveSave
SaveSave
SaveSave